Lumpiang Sariwa or fresh lumpia is one of my favorite Filipino dishes with full of veggies that requires a long day preparation for a very satisfying taste. Here are the ingredients of my favorite dish, it's really good!
INGREDIENTS:
For the Filling:
* 2 cups julienned or diced Potatoes
* 2 cups julienned or diced carrrots
* 2 cups julienned or diced Sweet Potatoes
* 2 Diced Turnip/Jicama
* 1 cup sliced Extra Firm Tofu
* 1 can of Peeled Garbanzo Beans
* 2 cups Julienne Green Beans
* 2 cups Bean Sprouts
* ground black pepper and salt to taste
* 1/3 lb ground pork
* 1/3 lb shrimp, peeled, deveined and minced
* Lettuce (Washed and thoroughly dried)
* Lumpia Wrapper (available at most Asian stores)
* Chopped Onions
* 2 tbsp Minced Garlic
* 3 tbsp Oil for frying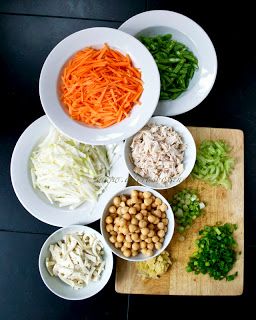 For the Sauce:
* 4 cups Water
* ½ cup Soy Sauce
* ½ cup Brown Sugar
* 3 tbsp. Corn Starch
PROCEDURE:
FILLING:
* Deep fry the tofu
* In a separate pan, sauté the garlic and onions, add ground pork, shrimp
* Once tender, add the potatoes, and sweet potatoes
* Once tender, add the carrots and green beans
* Once tender, add the jicama, garbanzo beans and bean sprouts
* Sprinkle a little bit of brown Sugar and salt
* Mix until all ingredients are tender
* Add the fried tofu to the rest of the ingredients
These vegetables need to be fried but not crisped up. They should be fried til half cooked. Set aside or refrigerate once cooled if needed for the other day.
SAUCE:
* In a pot, heat the water and soy sauce
* When almost boiling, add brown sugar
* In a bowl, mix corn starch and water, add to the pot
* Fresh garlic
* Keep mixing until sauce is creamy
ASSEMBLY:
* In a lumpia wrapper, place the dry lettuce in the center
* Add about 3-4 tablespoon of filling
* Wrap the filling and seal it with dissolved corn starch in water
TOPPINGS:
* sauce
* grounded peanuts
* garlic
Enjoy!!!